The XMe boxcar was a 34 ft car built in 1902 by the P&R, it was the last wood underframe 34 ft boxcar. It is made with a cast resin underframe and one piece superstructure. The detail parts are Grandt Line and Tichy. It has MDC trucks with Intermountain semi-scale wheels and Westerfield decals. I have 6 of these cars on my layout.
Homemade Resin P&R clas XMe Boxcar
This is a cast resin supperstructure on an MDC cast metal underframe. It represents a P&R car but is 36 ft long instead of 34 ft. This casting is made with 4 boards in the sides. I can make it 4 boards high for some gons, 3 boards high for P&R "high side" gons or 1 board high for P&R "low side" gons. The details are Tichy, MDC Fox trucks with IM semi-scale wheels, KD #58 couplers and Westerfield decals.
Homemade Cast Resin P&R Gon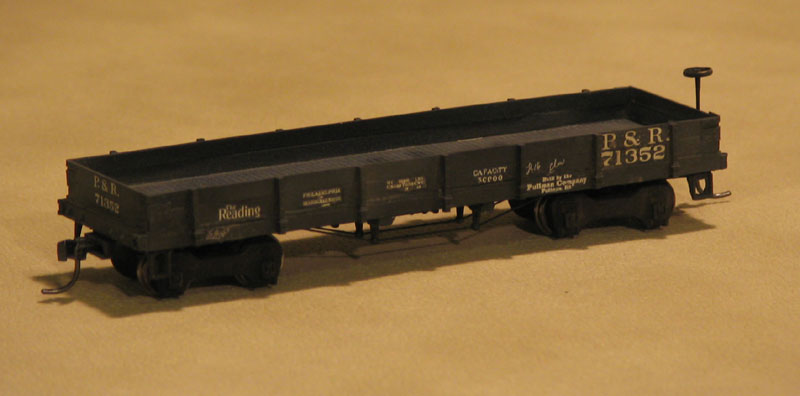 Another of my cast resin gons, this time a PRR gon that is a 4 board high side gon.
PRR cast resin Gon

One of the few 34 ft plastic boxcars suitable for this era is the Bachmann 34 ft Old Timer boxcar. It is very close to a PRR XA boxcar (BTS makes a laser cut wood kit). This car has a cast resin underframe to replace to toy train ustock underframe. It has a Tichy details and Art Griffin decals, with MDC trucks, IM semi-scale wheels and KD #58 couplers. It is posed infront of a Walthers Sunrise feed mill that has been modified to resemble the FM Brown & Sons mill at Birdsboro.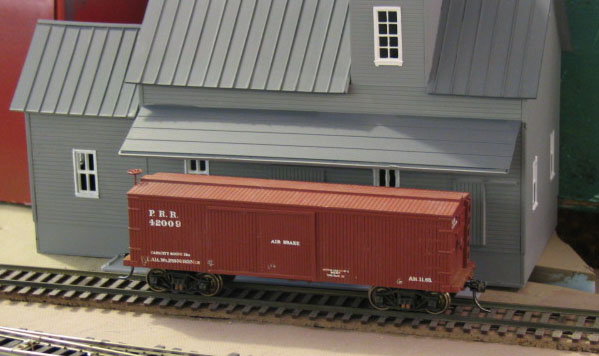 Another Bachman 34 ft boxcar make another variation of the PRR XA, also with Art Griffin decals.
Lat in the Bachmann theme is this PLE car with Grandt Line NG doors and Art Griffin decals.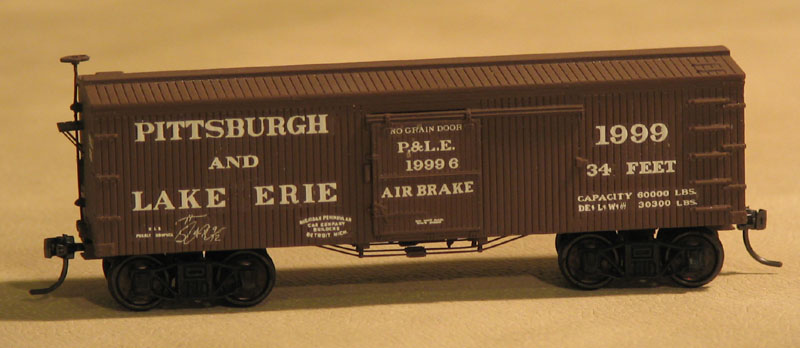 This DLW car is a near stock Roundhouse model with a replacement cast resin underframe (the metal one was stolen to put under the gons). It has Art Griffin decals, semi-scale wheels and KD#58 couplers.
Here is a B&O class M8 36 ft boxcar made from a MDC reefer shell with a cast resin underframe (once agin the stock metal underframe ended up under a gon). Not the doors open to the left and there are no grab irons on the side of the cars on the right end, typical for the period. It is lettered with Art Griffin decals (yes, the purple panel is prototypical).
Another variation of the B&O M8 boxcar. You may have noticed the 'chalk marks on the sides of the cars. Chalk marks were extremely common in this era, mine are decals made by Sunshine models.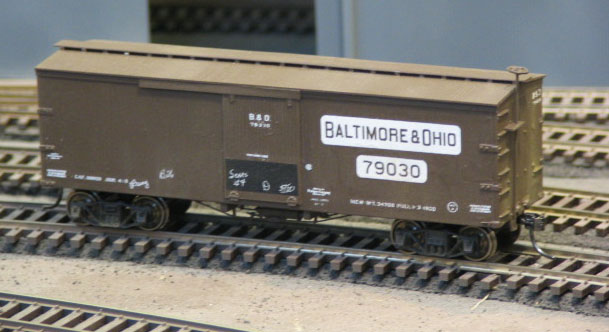 This is an AHM 30 ft boxcar (very hard to find) with Art Griffin decals and few minor modifications.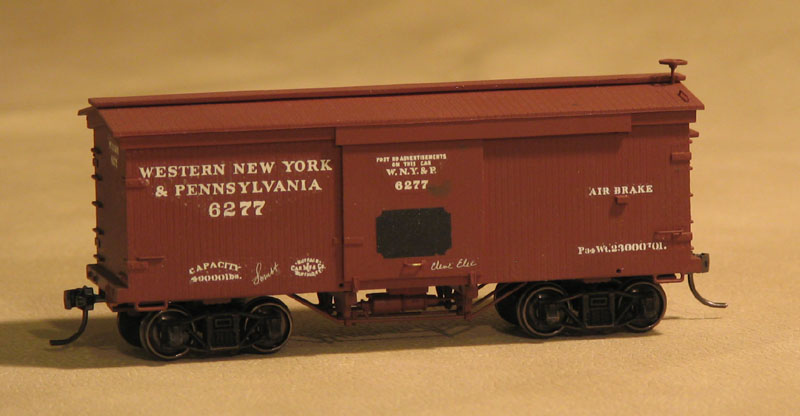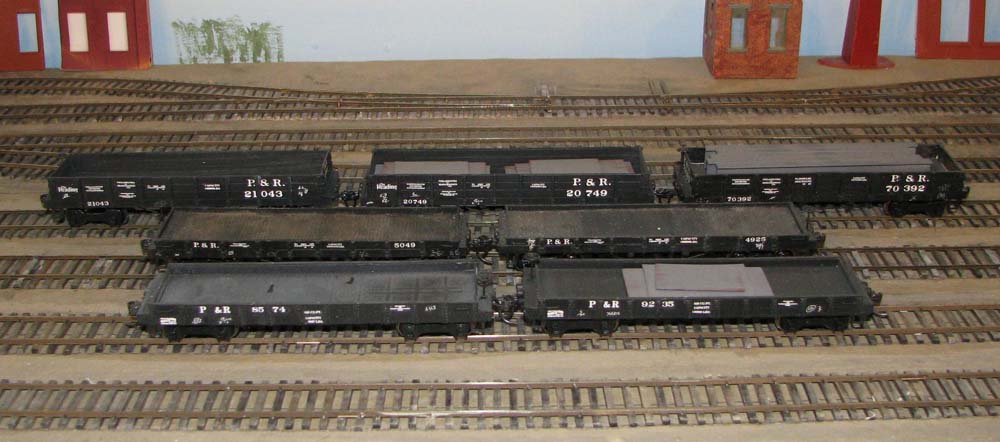 Here are a sample of my Philadelphia & Reading gons.
Back Row: These are all resin castings on MDC cast metal underframes. They represent P&R class GHa gondolas built in the 1890's.
Middle Row: These are also resin castings on MDC cast metal underframes, but have been cut down to represent the low sided mill gons of class GMa.
Front Row: Athearn 50 ft gons were shortened and cut down as models of P&R class GMb Pressed Steel Car Co. mill gons.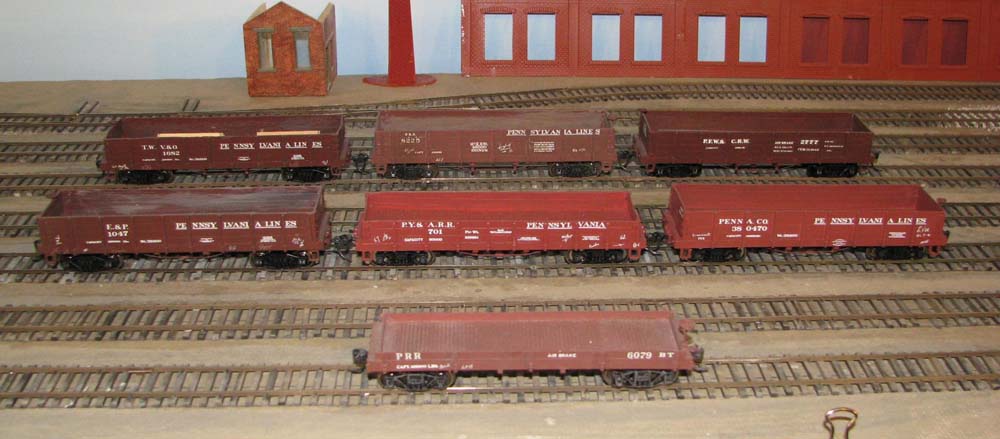 The Pennsy is well represented on the W&N will numerous "long gons" (as the Pennsy called its mill gon fleet) . All of these are resin castings on MDC underframes, except the gon in the front row which is a scratchbuilt class GA model.
The B&O, being the other major interchange road, will have a strong presence on the W&N. In the back row are two M8 boxcars kitbashed from MDC reefers. In the middle row are two B&O gondolas, one a B&O car and the other leased from a shortline. The front row are two Bachmann cars with added detail as stand in B&O cars. One of the challenges with B&O cars is finding decals with the unusual "bar of soap" herald and number plate.